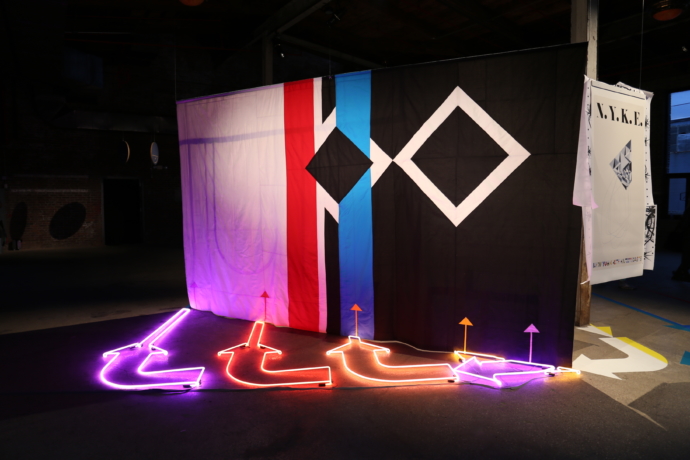 Exhibitions
CHATTANOOGA: ALISON O'DANIEL + GREG POND WITH CESAR LEAL
Stove Works October 12 - 27th (Reception: October 27 6:00pm - 9:00pm)
Seed Space + Stove Works present Melt My Heart But Spare My Soul feat. Alison O'Daniel (Los Angeles, CA) + Greg Pond (Sewanee, TN) with César Leal (Sewanee, TN).
Organized by:
Mike Calway-Fagen (Stove Works), Brian + Carolyn Jobe (Seed Space)
About:
Alison O'Daniel (Los Angeles, CA)
Combining film, performance, sculpture, and installation, Alison O'Daniel's work is structured as a call-and-response between mediums. Cinema, performance, sound-dampening textiles, sculptures, mobiles, and large-scale installations foreground the deaf and hard of hearing experience through process, collaboration, and material. O'Daniel collaborates with composers and musicians in order to highlight the loss or re-creation of information as it passes through various channels, and to build a visual, aural, and haptic vocabulary as a means to tell stories inspired by events that are both historic and quotidian.

O'Daniel has presented solo exhibitions at Art In General, New York; Samuel Freeman Gallery, Los Angeles; Centre d'Art Contemporain Passerelle, Brest, France and an upcoming solo show at Shulamit Nazarian Gallery in Los Angeles. She has presented performances at the Hammer Museum, Knockdown Center, and Art Los Angeles Contemporary. She is included in the Hammer Museum's 2018 Biennial 'Made in L.A.' and a group exhibition The Infinite Ear at the Garage Contemporary Art Museum. Writing on her work has appeared in The New York Times, Artforum, Los Angeles Times, and ArtReview. She has received grants from the Rema Hort Mann Foundation, Center for Cultural Innovation, Art Matters, Franklin Furnace Fund, and California Community Foundation. O'Daniel received a BFA in Fibers and Material Studies from the Cleveland Institute of Art, a Post-graduate Diploma of Fine Art from Goldsmiths College, University of London, and a MFA in Studio Art from UC Irvine, CA.
Greg Pond has been a professor in the College of Arts and Sciences at the University of the South in Sewanee, Tennessee since 1999. He was founding member of the artist collective Fugitive Projects in Nashville in 1998. He has served as board member of the Mid-South Sculpture Alliance and of the nonprofit arts magazine Number Inc. He is currently serving as a juror for the Tennessee Arts Commission and Vanderbilt University arts grants. In 2012 he completed a feature-length documentary about the architectural and political history of Trench Town in Kingston, Jamaica. The film premiered in London in 2012 and was included in the Pan African Film Festival, the Jamaica International Reggae Film Festival, and Rotodom in Spain. He continues to work on films with colleagues and students in Jamaica, with two new films about the communities of the district of Kingston 12 currently in production. In 2011, 2012, and 2013 he received grants from the MakeWork Foundation in Chattanooga. His latest MakeWork project involves the Section 8 housing community of Patten Towers in Chattanooga, a book about the project is currently in production. He was a recipient of the Tennessee Individual Artist grant, a Kennedy Fellowship at the University of the South, and has been an artist is residence at the F+F School of Art in Zurich and the Burren College of Art in Ireland. Pond also works as an independent writer, curator, and lecturer with projects and events hosted by the Egyptian Ministry of Culture, the Second Street Gallery in Charlottesville, Virginia; Fivemyles Gallery in Brooklyn, Delta Axis in Memphis, Vanderbilt University, and the Frist and Cheekwood Museums of Art in Nashville. His work has been exhibited in places such as Galway and Dublin, Ireland; Basel, Switzerland; Cairo, Egypt; Kingston, Jamaica; Charlestown, St. Kitts and Nevis; Portland, Oregon; Austin, Texas; Chicago, New York, New Orleans, Memphis, and Nashville. His most recent work recently been featured in exhibitions and screenings in Frankfurt, Nashville, Austin, the Hunter Museum of Art, Oregon State University, and Flagler College. Pond also has taught workshops in 3D printing, computer-aided design, Arduino programming, and 3D scanning for organizations such as Fort Houston in Nashville, the MidSouth Sculpture Alliance, Whitman College, and St. Andrew's Sewanee School, and Medrar Media Arts Center in Cairo, Egypt.
Colombian born conductor and musicologist César Leal is currently the artistic director and conductor of the Sewanee Symphony Orchestra in Sewanee, TN, where he also serves as faculty member of the Sewanee Summer Music Festival. He has led ensembles across the U.S., Panama, Colombia, France, and the Ukraine.

Maestro Leal's activities as a Conductor and Musicologist often intersect and his interest in interdisciplinarity and collaboration often inform his scholarly and artistic projects. In collaboration with the Lexington Ballet (KY), he directed a full-stage production devoted to Diaghilev's Ballet Russes (2013). This tribute included performances of Stravinsky's Rite of Spring, Chopin's Les Sylphides, and Debussy's Afternoon of a Faun. In 2011 and 2012 he was the assistant director of the Congrés Mondiale d'Écologie Sonore (Switzerland), an event devoted to music research and performance. Leal's program for his debut with the Panama National Symphony Orchestra in July 2014 featured works from the fin-de-siècle (1880-1913) that bridged European and Latin American musical traditions. Most recently (2017), Leal collaborated with the American Spiritual Ensemble in a concert version of George Gershwin's Porgy and Bess. In 2019, he will collaborate with baritone Reginald Smith Jr., Metropolitan Opera National Auditions Winner (2015) for a performance of Pilgrimage, a rarely performed Cantata for orchestra and baritone, by American living composer Carlisle Floyd (b. 1926). He has recorded works by several Latin American composers and has presented scholarly papers in the U.S., Canada, Greece, Japan, Italy, France, England, Peru, Colombia, and Switzerland.
An advocate of young musicians, Maestro Leal often teaches conducting workshops and acts as a guest clinician with youth orchestras in the U.S. and abroad. Since 2015, he teaches a conducting masterclass at the KIIS summer program in Salzburg. For the 2017-2018 season he was named artist in residence for the prestigious orchestral program at Stevenson High School in Chicago. As an adjudicator, Leal is often invited to be part of important national and regional competitions such as the Midwest Young Artists concerto competition (Chicago, IL), Jacqueline Avent concerto competition (Sewanee Summer Music Festival), as well as the CSO youth orchestras (Chattanooga, TN) and the Tennessee Tech University (Cookeville, TN) concerto competitions.
---
image: Alison O'Daniel, Room Tone, Art in General New Commission, Presented in collaboration with the Knockdown Center, Maspeth, NY, March 26 - May 8, 2016. Courtesy the artist and Art in General. Photo: Charles Benton